What our customers say
Klantenreviews
Schrijf een review
Stel een vraag
01-14-2022
Sietske P.

Netherlands
Blij
Ontzettend blij met het nieuwe behang voor op de kamer van onze dochter! Niet zo standaard. Jammer dat er geen combinatie (effen) behang in het assortiment is. Onze dochter raakt niet uitgepraat over haar konijntjes kamer!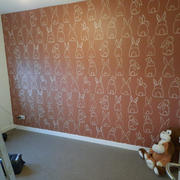 01-07-2022
stephanie d.

Belgium
tevreden
zeer tevreden, idem zoals op foto, goeie kwaliteit, goed omschreven handleiding, snelle levering, Ik bestel zeker nog eens ;)
Calculate how many rolls you need.
Our rolls have a height of 2.85 m. Insert the width that needs to be covered.
Quantity required: ... rolls

Roomblush customers buy an average of 3 rolls of wallpaper. When you click 'Edit quantity', we will enter the correct quantity.
You cannot add this product to your shopping cart
You already have products of another type in your shopping cart. You cannot order samples and rolls at the same time.
Maximum number of samples
You may order a maximum of 4 samples at the time. By adding this product to your shopping cart, you exceed the maximum number of samples allowed (a sample package contains 4 samples).
Your shopping cart contains already a sample package
You cannot order a sample package at the same time as other products