Wallpaper Wild Flowers
RB276
Struggling to choose?
We know, all those beautiful prints make it hard to choose!
That is why you can order a standard sample pack or put together your own pack, which you can explore at your own pace at home to decide what best suits your interior.
Order your samples for free now!
What our customers say
Klantenreviews
Schrijf een review
Stel een vraag
10-13-2021
Rita K.

Netherlands
Mooi behang en makkelijk te verwerken
Na staaltjes te hebben aangevraagd (werkt fijn, door kleinere schaal wel iets lastiger te beoordelen) behang besteld. Doordat er vier banen op 1 rol zitten is het heel makkelijk aan te brengen. Geen behanger voor nodig!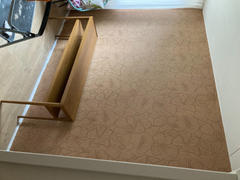 Calculate how many rolls you need
Our rolls have a height of 2.85 m. Insert the width that needs to be covered.
Quantity required: ... rolls
You cannot add this product to your shopping cart
You already have products of another type in your shopping cart. You cannot order samples and rolls at the same time.
Maximum number of samples
You may order a maximum of 4 samples at the time. By adding this product to your shopping cart, you exceed the maximum number of samples allowed (a sample package contains 4 samples).
Your shopping cart contains already a sample package
You cannot order a sample package at the same time as other products