What our customers say
Klantenreviews
Schrijf een review
Stel een vraag
Behang ours babykamer
Heel makkelijk aan te brengen dankzij de nummering en de knip ruimte tussen de banen. Behang is precies zoals op de website wordt weergegeven. De kleine man heeft een heerlijk kamertje gekregen!
07-07-2021
yentl o.

Netherlands
Heel blij mee!
We hebben het behang Ours besteld met de bruine ondergrond. Prachtige kwaliteit en zit logisch op de rol met de juiste informatie om het makkelijker te maken. Omdat over de gehele lengte van de baan het patroon moet aansluiten is het wel een klus om het op de muur aan te brengen maar als het dan eenmaal hangt, prachtig resultaat. Wij hebben alleen de randen en de naden met eenzelfde kleur verf behandeld om eventueel loslatende naden te maskeren. Mijn advies is om wel de hele muur dezelfde donkere kleur te verven voor een egaler resultaat. Heel blij mee en tilt de kinderkamer echt naar een hoger level!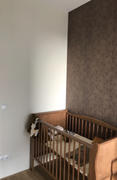 04-19-2021
Melody V.

Belgium
So pretty
Even prettier than I imagined and such good quality. Also very clear instructions!
Calculate how many rolls you need
Our rolls have a height of 2.85 m. Insert the width that needs to be covered.
Quantity required: ... rolls
Wanneer je klikt op 'Pas aantal aan', geven we de juiste hoeveelheid in.
You cannot add this product to your shopping cart
You already have products of another type in your shopping cart. You cannot order samples and rolls at the same time.
Maximum number of samples
You may order a maximum of 4 samples at the time. By adding this product to your shopping cart, you exceed the maximum number of samples allowed (a sample package contains 4 samples).
Your shopping cart contains already a sample package
You cannot order a sample package at the same time as other products