Panoramic Wallpaper Unicorn - 300x285cm
RB351
€10,99
/m2
(

€94,00

/roll

)
Panoramic Wallpaper Unicorn - 300x285cm
RB351
€10,99
/m2
(

€94,00

/roll

)
4 x 50cm x 285cm
What our customers say
Klantenreviews
Schrijf een review
Stel een vraag
Heel blij mee
Makkelijk te behangen voor een behang-nitwit en het staat super leuk in de kamer van onze dochter. Heel blij mee
06-28-2022
Sharon D.

Belgium
Wij zijn fan!
Wij zijn heel erg fan van dit behangpapier. Je kan er blijven naar kijken. Perfect voor ons eerste meisje in huis. Een aandachtspuntje: soms was het wel wat zoeken om de tekening per vel te laten uitkomen (vooral bij de blaadjes). Maar o zooo blij met het resultaat.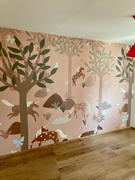 Calculate how many rolls you need.
Our rolls have a height of 2.85 m. Insert the width that needs to be covered.
Quantity required: ... rolls
When you click 'Edit quantity', we will enter the correct quantity.
Het artikel is nu aan je winkelwagen toegevoegd!
You cannot add this product to your shopping cart
You already have products of another type in your shopping cart. You cannot order samples and rolls at the same time.
Maximum number of samples
You may order a maximum of 4 samples at the time. By adding this product to your shopping cart, you exceed the maximum number of samples allowed (a sample package contains 4 samples).
Your shopping cart contains already a sample package
You cannot order a sample package at the same time as other products