Roomblush
Wallpaper Leo
RB347
€16,49
/m2
(

€94,00

/roll

)
€16,49
/m2
(

€94,00

/roll

)
4 x 50cm x 285cm
150 grams of ultra-strong vinyl wallpaper
1 roll consists of 4 lanes of 50 cm by 285 cm high. The total width is therefore 2 meters
What our customers say
Klantenreviews
Schrijf een review
Stel een vraag
08-22-2023
Eva v.

Netherlands
Mooi, vrolijk en subtiel behang!
Erg mooi, vrolijk en subtiel behang voor onze babykamer. De kwaliteit is super goed, gemakkelijk aan te brengen met de juiste behanglijm en ook eenvoudig vanwege de nummering van de banen. Goed ook dat het behang op bestelling geleverd wordt. Wij zijn er erg blij mee!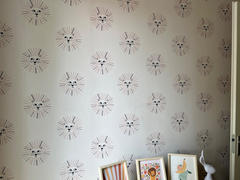 Bedankt voor jouw positieve feedback. Wat fijn om te horen dat je tevreden bent en het mooie eindresultaat met ons deelt! We wensen je veel succes en mooie momenten toe in de nieuwe kamer.
05-10-2022
Sofie V.

Belgium
Behang Leo
We hadden hoge verwachtingen voor het papier. Jammer dat deze niet werden ingelost. De leeuwen passen niet mooi aan elkaar aan, ook is de kwaliteit van het papier niet overal wat het moet zijn: zwarte of witte vlekken/punten/strepen er in.. niet echt wat we in gedachten hadden
Calculate how many rolls you need.
Our rolls have a height of 2.85 m. Insert the width that needs to be covered.
Quantity required: ... rolls
When you click 'Edit quantity', we will enter the correct quantity.
Het artikel is nu aan je winkelwagen toegevoegd!
You cannot add this product to your shopping cart
You already have products of another type in your shopping cart. You cannot order samples and rolls or stickers at the same time.
Maximum number of samples
You may order a maximum of 4 samples at the time. By adding this product to your shopping cart, you exceed the maximum number of samples allowed (a sample package contains 4 samples).
Your shopping cart contains already a sample package
You cannot order a sample package at the same time as other products