Roomblush
Wallpaper Animals
RB338
€16,49
/m2
(

€94,00

/roll

)
€16,49
/m2
(

€94,00

/roll

)
4 x 50cm x 285cm
150 grams of ultra-strong vinyl wallpaper
1 roll consists of 4 lanes of 50 cm by 285 cm high. The total width is therefore 2 meters
What our customers say
Klantenreviews
Schrijf een review
Stel een vraag
05-03-2023
MÉLANIE P.

France
Top
Très beau papier, la qualité est au rendez-vous ainsi que le rendu qui est magnifique !
C'est très agréable d'entendre que vous êtes satisfait(e) de la qualité et du résultat du papier peint Roomblush! Nous vous souhaitons beaucoup de succès dans votre chambre transformée.
02-23-2023
Pauline A.

France
Chambre Jules
Un papier peint d'excellente qualité et un rendu parfait. Je recommande totalement. Envoi rapide et colis soigné.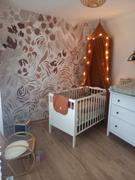 Calculate how many rolls you need.
Our rolls have a height of 2.85 m. Insert the width that needs to be covered.
Quantity required: ... rolls
When you click 'Edit quantity', we will enter the correct quantity.
Het artikel is nu aan je winkelwagen toegevoegd!
You cannot add this product to your shopping cart
You already have products of another type in your shopping cart. You cannot order samples and rolls or stickers at the same time.
Maximum number of samples
You may order a maximum of 4 samples at the time. By adding this product to your shopping cart, you exceed the maximum number of samples allowed (a sample package contains 4 samples).
Your shopping cart contains already a sample package
You cannot order a sample package at the same time as other products